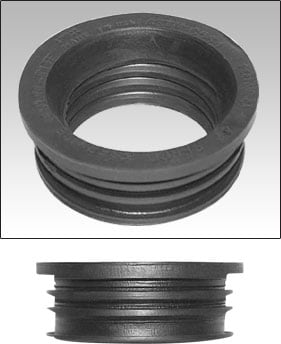 Multi-Tite Pipe Gaskets
Pipe gasket for service weight cast iron pipe.
Fernco Donuts are flexible PVC donut-shaped rings for the compression sealing of sewer pipe joints and DWV connections such as sockets, hubs, bells and spigots. They offer all of the properties necessary to create a strong, lasting joint.
Features
Multi rings on the outside make this gasket the easiest to install.
Models
SVG-2 - 2" service weight cast iron
SVG-3 - 3" service weight cast iron

SVG-4 - 4" service weight cast iron

SVG-5 - 5" service weight cast iron

SVG-6 - 6" service weight cast iron

SVG-8 - 8" service weight cast iron

SVG-10 - 10" service weight cast iron

SVG-12 - 12" service weight cast iron

SVG-15 - 15" service weight cast iron
Accessories