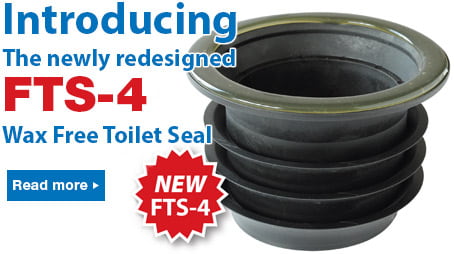 Wax Free Toilet Seal

Wax always worked in the past so why change now? Because Now There is a Better Way!
1
Wax does not standup to heat making it a poor choice for use with radiant floor heating.
Fernco's Wax Free Seals are made from PVC and will not break down. Our seal is designed to be a permanent part of the plumbing system upon installation.
2
If there is a main line backup, wax will not hold much head pressure and is likely to fail.
Fernco's Wax Free Seals are UPC approved. UPC certified to provide a water and airtight connection between the water closet and sanitary drainage system. Conforms to the industry standard ASTM A 1045
3
Anytime the flange is lower than the finished floor, you need more wax. Unless the flange is installed "over" the floor, it takes more than a single wax ring to seal.
Fernco's Wax Free Seals long neck will make a positive secure connection regardless of flange height.
4
Each time the toilet is removed a new wax seal must be installed.
With Fernco's Wax Free Seals toilet can be pulled and replaced without changing the seal.
5
Wax seal removal is a disgusting, sticky, messy job.
Fernco's Wax Free Seals are Clean, Quick, and Easy to install or remove.
Features
A strong, flexible adhesive creates a positive seal to the bottom of the toilet
Size dimension accommodates floors raised above the toilet flange by up to 3/4"
Flexible ribs form a tight, positive seal to the inside of the drain pipe
NO MORE GUESSING if there is a seal with the bottom of the toilet like with wax rings
Specifications
Conforms to ASTM A 1045
Seals on floors raised above the flange by up to 3/4"
No need for flange risers or stacked wax rings
Ideal for in-floor radiant heat installations
Impervious to mold and mildew
Centers itself and the toilet to the drain
Will not melt or freeze in the temperature extremes of your truck
Toilet can be removed and reinstalled with the same Fernco Wax Free Toilet Seal still attached
Made of flexible PVC and will move with a wobbly toilet
Models
FTS-3 - Designed to seal the toilet to a 3" toilet flange installed on 3" drain pipe.

FTS-4 - Designed to seal the toilet to a 4" toilet flange installed on 4" drain pipe. Ideal for most 4" Closet Wall Carriers.
Accessories
PSF-100 - Spanner Flage eliminates the need to replace broken closet flanges, saving time and money. Simply place the flange under the broken area of the ring and tighten the nut.